The CARNOT Chimie Balard CIRIMAT organised his symposium at the Chambre de Commerce et d'industrie in  Lézignan Corbières. A place located at the heart of the Occitanie Region between Toulouse and Montpellier.  First of all the Symposium is the opportunity to meet, discuss and chat between researchers of our labs, the direction and the operation team membres of the institute.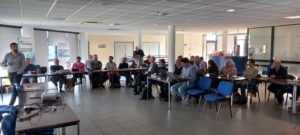 The symposium is an opportunity to invite external personalities to present their activities to us. This year, interactions with the laboratories of other Carnot institutes were honored with the reception of the directors of the Carnot institutes Energy and Propulsion System (ESP), Innovation Chimie Carnot (I2C), in the Normandy region as well as the Carnot MICA , based in the east of France.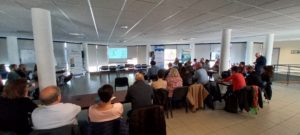 It is also the ideal event to recall through the interventions of the director of the association of Carnot institutes and the person in charge of the Carnot program at the ANR the excellence and the professionalism of the laboratories recognized by the label CARNOT – Excellence and Professionalism , both in scientific terms and for the ability to develop contractual relationships with companies.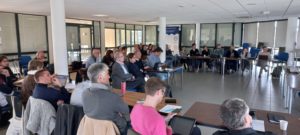 Finally, the 2023 symposium provided an opportunity to take stock of the progress of scientific projects funded by the Carnot contribution on themes around the development of new materials for batteries, medical devices, and the use of CO2 as a raw material. .
Thank you to the registered colleagues for their participation. We hope that this day has given you ideas for proposing new developments and has allowed you to make new contacts.