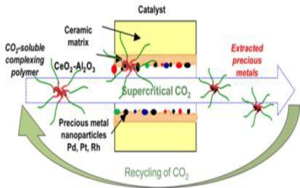 This European project develops an eco-friendly disruptive technology for the recycling of precious metals and presents here its advances.
Context
The SUPERMET project team develops an eco-friendly disruptive technology for the recycling of precious metals, especially palladium (Pd) and platinum (Pt), from spent catalysts such as petrochemistry catalysts.
For this purpose, the researchers are developing innovative copolymers which are soluble in supercritical CO2, for the complexation of the precious metals to be recovered. Supercritical fluids techniques are generating a minimum of secondary effluents and can be operated in mild conditions of temperature compared to conventional routes.
Achievements of the project
Two years after the project was launched, very promising results have been obtained :
12 catalysts have been delivered to the project partners and characterized (3 Virgin, 4 virgin pre-treated and 5 spent catalysts).
18 innovative copolymers have been synthesized, 12 being significantly soluble in supercritical CO2 and presenting metal complexing units able to interact with precious or heavy metals.
145 extraction tests have been performed using this novel route. At lab-scale, up to 2 g of catalysts have been tested at mild temperature and pressure conditions (40 °C –250 bars).
The experiments carried out have demonstrated the possibility to extract more than 70% of the palladium from the initial catalysts.
The consortium's project and these very promising results have already been presented at 7 international conferences.
A project led by a Montpellier research team
Five partners are involved in the SUPERMET project, including three research institutes, a German technology company and a French association. The coordinator is Dr. Patrick Lacroix-Desmazes, researcher at the Charles Gerhardt Institute in Montpellier, which is one of the components of the Carnot Chimie Balard Cirimat Institute. He and his team possess a strong expertise in polymerization chemistry, and extensive experience in polymers soluble in supercritical CO2, the technological route applied in this project.
The SUPERMET project "Recovery of precious metals from spent catalysts by extracting supercritical CO2 using polymers", winner of the ERA-MIN 2 call, is co-financed by the Horizon 2020 program of the European Union.
Perspectives ?



The next steps will aim to optimize the extractions and to scale up the process, in order to recover the precious metals from a larger quantity of catalysts (up to 100 g). Furthermore, technical and economical studies as well as a comparative analysis of life cycle assessments will also be carried out.
To learn more

Link to the project website
e-mail : contact@supermetproject.eu