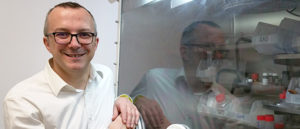 The election of Professor Patrice Simon to the National Academy of Technologies of France honours the distinguished record in materials science of this CIRIMAT researcher, recognising
his scientific excellence and the international influence of his work.
The National Academy of Technologies of France, providing a vision for the future
The National Academy of Technologies of France plays a key role in the thinking about new technologies and their impact on society. Its experts closely examine all of the questions that arise concerning these technologies, so as to advise the government and inform society as a whole about the opportunities and risks associated with the new technologies.
With the arrival of 16 new members in 2019, there are now 330 academicians representing various technological domains. Amongst the new members is Patrice Simon, professor at the University of Toulouse III-Paul Sabatier and researcher in the Centre interuniversitaire de recherche et d'ingénierie des Matériaux (CIRIMAT), a component of the Chimie Balard Cirimat Carnot Institute.
Patrice Simon, a record of excellence in materials for energy
In addition to research and teaching, Patrice Simon is the Deputy Director of the Research network on electrochemical energy storage (RS2E), a public+private sector research network on batteries and supercapacitors backed by the CNRS. His research is dedicated to the synthesis and characterisation of materials for the electrochemical storage of energy, and in particular on the electrochemistry taking place at interfaces.
Senior member since 2017 of the Institut Universitaire de France (a prestigious French institution whose named members are university researchers), Patrice Simon was awarded the CNRS Silver Medal in 2015 and the Brian Conway Prize of Physical Electrochemistry by the International Society of Electrochemistry in 2018. Last year he was also named a Citation Laureate by Clarivate Analytics, one of 17 highly cited researchers who are potential Nobel Prize recipients.
From expertise to innovation, it's just one step!